Well Empire Faithful, it's that time of the year again. You know, the time of the year when news goes from just about nonexistent and spotty, to an abundance of roster prediction pieces. Well, to cut to the chase, here's my pre-training camp contribution to that trend.
*Disclaimer* This piece isn't full of stats and numbers, or highlights. This is more so a brief but at times in some areas, drawn out and in depth look at the roster through my unique lens.
Either way, thanks for for your time. So, if you will. Jump in, put your seat belt on, and take a ride with me en route to Levi's Stadium. By the time we get there, you'll have a sound understanding of my thoughts and projections of how I see the roster shaking out.
One last thing —  this piece is dedicated to the woman and super fan that was the first to bestow upon me the greatness of the 49ers, and what it means to truly be a Faithful. My late yet amazing grandmother, Gleoria J. Mitchell. 03/29/1938 – 07/18/2019. REST EASY GRANDMAMA, THIS IS FOR YOU! LOVE YOU LOTS!
Quarterback (2)
Jimmy Garoppolo, Nick Mullens
Okay, I'll be brutally honest here. Thus far Beathard pretty much has just looked like just one of the guys, instead of "that guy." He's made most fans question if this was "the guy" Kyle Shanahan was referring to begin with. There has been some good from Beathard though. He's proven to be tough and has a great chin, as he's taken multiple punches. We painfully watched him take plenty and get right back up just to get have it happen again. Some punches weren't his fault, as the line didn't hold up, but then again, a lot of them were. He seems to have trouble making decisions and holds onto the ball too long. Beathard does have the biggest arm and is the most mobile though, so I guess there's a chance he at least makes the roster. Only way I see Beathard as #2, is if a team makes an offer for Mullens that the 49ers can't refuse. The team may also decide to keep three quarterbacks, so we'll see. Unfortunately though, with tough decisions to keep more than normal at other positions, and this being a numbers game, I just don't see that happening. At least not right now.
Notable potential loss: CJ BEATHARD
Running Back (4)
Matt Brieda, Tevin Coleman, Jerick McKinnon, Raheem Mostert
This may be my favorite position group on offense at this point. All this speed and versatility out the backfield is a huge plus, and very useful. Talk about match up and coverage nightmares. No real shocker here, as these four seem to be set. Although I am curious to see what McKinnon can actually do, and how he's doing in his recovery — as much hasn't been said about it. Will he be on the PUP list initially to ensure max recovery time? This would be a prime time to give him the extra time if he needs it with this depth. I guess we'll see. A trade candidate perhaps? Who knows! Big contract or not, stranger things have happened. I'm also curious to see how it plays out on game days. Mostert is the special teams ace, so he's a game day lock long as he's healthy. Thinking about it, he may be the safest of them all due in big part to his special teams value. Look at me sideways if you want, but it's true. It's the other combination of the three that needs to be hashed out. I'll tell you this though, the personnel packages should be epic with this running back group. While Jeff Wilson has flashed and even looked good, he's had a habit of being too generous and giving (fumbling) the ball away. I'm all for players making charitable donations, just not on the field, or with the football. He's definitely a promising young talent, but most likely on his way out or perhaps the practice squad.
Notable potential loss: Jeff Wilson Jr.
Fullback (1)
Kyle Juszczyk
Do I really need to waste any time discussing this? Not to mention, he's the only full back on the roster. He's not the old school legend Tom Rathman fullback, but he's a weapon and can block and make plays. That said, we need more Juice please.
Wide Receivers (7)
Dante Pettis, Marquise Goodwin, Kendrick Bourne, Jordan Matthews, Richie James, Deebo Samuel, Jalen Hurd
It's been a long time coming Faithful, but the team finally has a good amount of talent and depth at the wide receiver position! Some might say the majority even have big play ability. Pettis has worked hard this off-season to add some bulk to his frame, and also worked on his explosiveness. There is no doubt he is trying to silence any sophomore slump talk. Goodwin (also when healthy) is one of the best deep-threat wide receivers in the game. I mean, the guy can flat out run, and very fast! I'd like to see more durability and toughness (contested catches and yards after catch) out of him, but long as he's healthy, he's good in my book. Need I mention he's about our only guy that can stretch the field (in a hurry) and take the top off a defense? (Before you stop to think about it or Google it, Goodwin is it, others are all sub 4.5 guys.) If he gets behind the defense, he'll stay there, and for that, I have him staying put. Kendrick Bourne has made the most of his opportunities, and also made some clutch and tough plays for the team. He's also had some drops, but need I remind you all these guys have? At 23 years young, Bourne has yet to play his best football, and I'd love to see him do so in a 49ers uniform. He gets the nod from me. Newcomer Jordan Matthews is a veteran that is tall (6'3) and has a great catch radius with good speed. He'll be huge in the redzone and on 50/50 balls. Rookies Deebo Samuel and Jalen Hurd have yet to take an NFL snap, they both have the skill sets and talent to make plays in this offense and at this level. I can't wait to see them both do so, and watch how Kyle Shanahan utilizes them both. This is where the twist in the movie to make you scratch your head comes in — Richie James Jr. over Trent Taylor! Queue suspense music. Though Taylor is back and healthy and dependable on third down, I see Richie James Jr. edging him out. I know, I know, he's Shanahan's guy (this may actually get him the edge) and all, but so was CJ Beathard. We see how that worked out. Sorry, couldn't resist! Okay, I'm refocused. These two are the same type skill-sets, Faithful, and both have return capabilities, However, I see more value in that of Richie James — as he's more explosive. Taylor has had a few nice returns, but just don't see him as a threat to hit the homerun. Speaking of which, let's flashback if you will, to his kick return for a touchdown against Seattle (ended the kick-return-for-a-touchdown drought) last year to help SF get the win. Be it talent/skillset, age, effort, or learning the playbook, I see this position battle (especially the last spot) more than others coming down to training camp and preseason performances.
Notable potential loss: Trent Taylor
Tight Ends (3)
George Kittle, Kaden Smith, Levine Toilolo.
I'll start by shaking this up a bit and taking a different path than anyone else — George Kittle makes the roster! Jokes people, jokes. Okay — getting back on track. I truly feel this may be the best group of tight ends the team has had in a long time. I mean, of course Kittle leads that pack, and is the main reason, but beyond him both Kaden Smith and Levine Toilolo are athletic, more than capable pass-catchers, and can block well! I wouldn't completely count out second-year tight end Ross Dwelley, as word is he's been said solid this off-season. Although he'll most likely hit the practice squad, undrafted tight end Tyree Mayfield is a unique talent as well. Even in a two tight end set, which is commonly a run formation, with this group, an RPO (run pass option) can be called with this versatility. Now the tough part — as much as I hate to say, especially due to injuries, but Celek Time may be about up. Between dealing with a concussion, off-season back surgery, and only one year left on his contract, veteran Garrett Celek may very well be on his way out, or even look to retire. Either way, I wish him the best.
Notable potential loss: Garrett Celek, Tyree Mayfield
Offensive Line (8)
Joe Staley, Mike McGlinchey, Laken Tomlison, Mike Person, Joshua Garnett, Weston Richburg, Shon Coleman, Willie Beavers
BLOCK HIM! Sorry, had a quick flashback of me screaming during the games watching these guards get beaten constantly. It was truly hard to smile most of the time. Look, if the team wants to score points, it starts up front. While this group was ranked 10th in 2018 by Pro Football Focus for run-blocking, the same unit struggled in pass-protection and was ranked near the bottom at 23rd. This imbalance between the run and pass-blocking isn't anything new. The team has historically been much better at run-blocking than pass-blocking. I mean, that's not so bad……unless the defense stacks the box forcing the team to opt to pass, ultimately exploiting the glaring weakness. Oh, but that almost never happens. It's not like this it's is the NFL! To come back reality, if this group wants to truly cement themselves as one of the best, they'll have to vastly improve their pass-blocking. Starting with the guard play. That said, the names mean nothing here, it's the production that counts.
Notable potential loss: Justin Skule, Erik Magnuson (Shortly after the completion of this article, Erik Magnuson was released by the 49ers)
Defensive Line (8)
DeForest Buckner, Dee Ford, Arik Armstead, Nick Bosa, Solomon Thomas, Kentavius Street, DJ Jones, Ronald Blair
I couldn't wait to get to this group. Dare I say the 49ers will again rediscover a pass-rush, Faithful? I can't wait! This is a group I'd like to see heavy, with at least eight. I tell people all the time, the offensive line doesn't rotate to get breathers, but the defensive line does! The deeper you are and the more talent you have, the better. With this rotation, there's no reason why getting pressure with just four should be a problem. There should be a formidable group of four on the field at all times. As it stands, Buckner, Ford, and Bosa are locks. With this rotation, Buckner and all the role players (guys most have dogged or don't get much love due to lack of production) such as Armstead, Blair, Thomas, Jones, Street) will have big (better) years with the pass-rush additions of veteran Dee Ford and rookie Nick Bosa. Teams will no longer to double-team Buckner in the middle, as they'll have to account for the edge-rushers. Based upon the down and distance, I'd assume that will dictate who the offensive line chooses to double. Whatever the case may be, any double teams will leave somebody in this group coming free and ready to occupy their real estate in the backfield. Hopefully this group can resuscitate the name, "Sack Francisco".
Notable potential loss: Sheldon Day, Jullian Taylor
Linebacker (6)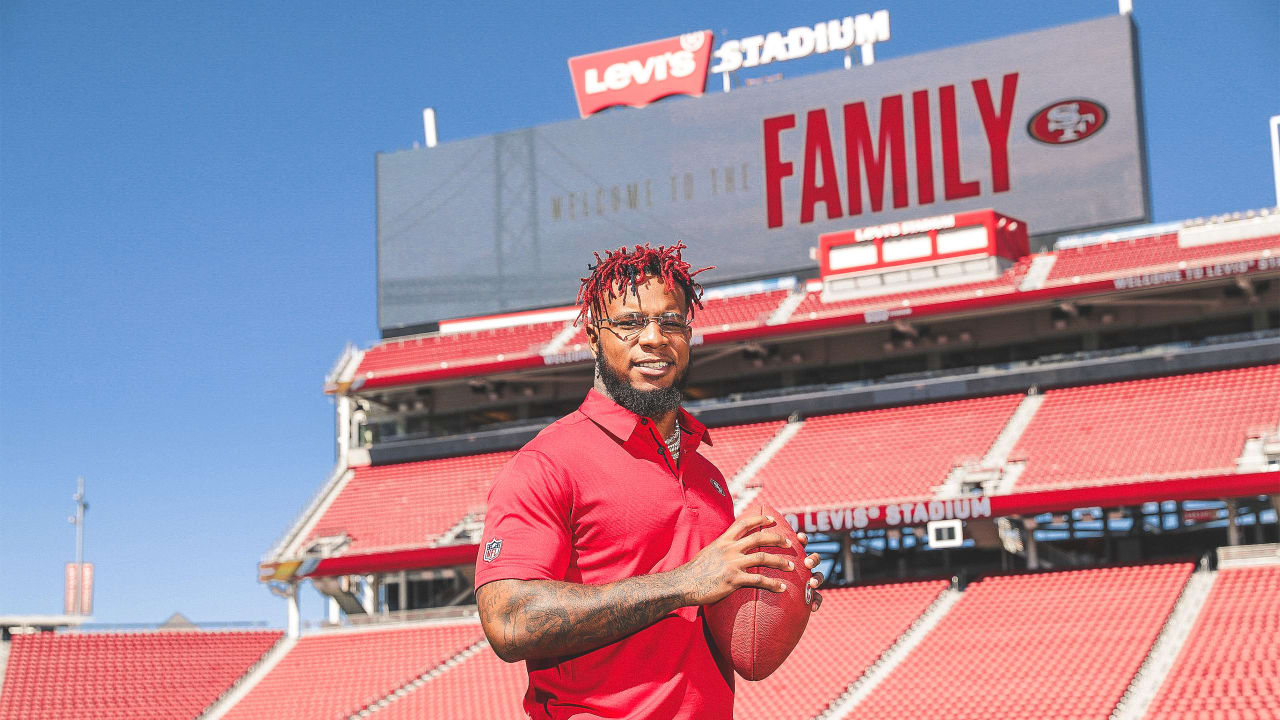 Fred Warner, Kwon Alexander, Elijah Lee, Dre Greenlaw, Mark Nzeocha, David Mayo
Believe it or not, this is one of the less complicated position groups, in terms of who's in, who's out? Not sure if Kwon Alexander will be ready to go or not, but in his absence I'm good with and have faith in Lee at WILL (weak side linebacker). It's also been reported he's in the mix to play SAM as well. Speaking of SAM (strong side linebacker), though that's where Malcolm Smith has played, he's had health issues and hasn't really impressed. Mark Nzeocha can play SAM as well and actually did a decent job when he saw snaps. Once Alexander is a go, Lee can move to SAM. I'm not sure how it'll play out, and Smith may actually get the nod. Only time will tell. David Mayo is another ST (special teams) guy and should be safe. Rookie Dre Greenlaw is promising, with something to prove and can also play ST. He may not see a bunch of snaps, but he should definitely get his opportunities to show shine. Having both Fred Warner in his second year and Alexander healthy should truly be fun to watch and give us one of these most athletic linebacker groups in the league.
Notable potential loss: Malcolm Smith
Cornerback (6)
Richard Sherman (CB), Jason Verrett (CB), Ahkello Witherspoon (CB), Tim Harris (CB), K'Waun Williams (NCB), DJ Reed (NCB).
HOW IS HE SO OPEN? Yep, I did it again — forgot where I was and repeating what I'd yell at the TV. Moving right along. In his second year post-surgery, I expect to see more of the Richard Sherman we grew to hate as he haunted the 49ers when in Seattle. For those of you who've yet to accept he's here, NEWSFLASH, he's still here. Although he was playing just about on one leg, he held his own. Look to see him continue to mentor these guys and take a step forward. Jason Verrett, when on the field hands down is one of the best, and was even endorsed by Sherman. K'Waun Williams is one of the best nickel cornerbacks in the game and is a dog! Though Ahkello Witherspoon struggled last year, he flashed on plays showing why he was spoken so highly of. He just wasn't consistent. He's also been seen putting in the necessary off-season work to improve. DJ Reed is also a promising nickel cornerback, and I'm looking forward to seeing him step up as well. Keep in mind though, he's coming off surgery, and further validates depth at the position. With the move of Tavarius Moore to free safety, that opened the door for rookie Tim Harris. The kid can ball! We'll see how things pan out, but I like this group of six.
Notable potential loss: Mabin
Safety (5)
Adrian Colbert (FS), Jimmie Ward (FS), Tavarius Moore (FS), Jaquiski Tartt (SS), Marcell Harris (SS)
This is by far the toughest group to gauge. I love what Adrian Colbert has shown when healthy, Jaquiski Tartt is also a force when 100%, Jimmie Ward, when healthy, wait, has he ever been fully healthy? Ward is the only player you have to manually take off IR on Madden as he's there so much. Okay, okay, I'll stop. In all seriousness, I actually love the intensity he plays with, and he does have talent, it's just hard to speak on it because he spends more time off the field than on! Oh, and that blown assignment last season playing the Giants, when he placed himself at the LOS (line of scrimmage) instead of playing two-deep. Yeah, that can't happen! As I digress. Truthfully, single-high safety is a difficult position to play, especially if you're new to it, which he is. We'll take the "wait and see" approach here as well. The highlight of this group is Moore (6'3, 190, 4.32 40 time) getting a shot at his natural position of free safety. Marcell Harris also showed potential in his time on the field, and is worth monitoring and in my opinion, has a good shot at making the roster. Antone Exum may also end up supplanting one of these guys as he's a veteran, versatile, and on team-friendly deal. Personally, I just want to see better and consistent (free) safety play and be able to tackle better and create turnovers.
Notable potential loss: Antone Exum Jr.
Specialist (3)
Robbie Gould (K), Mitch Wishnowsky (P), Colin Holba (LS)
Not a lot to unpack here, but two quick hitters — if Wishnowsky can have the impact his hype does, this defense will be in attack mode all four quarters as the opposing offenses will be pinned deep in their own territory. Flipped field position is key. Also, once Kyle Nelson is back, does that automatically make him the starter and Colin Holba expendable? I guess we'll see!
Notable potential loss: Colin Holba
Okay Faithful, we've arrived at our destination, Levi's Stadium, and just in time for training camp! Hopefully you enjoyed the ride as much as I did. I'll leave you with this — I'm aware everything we just discussed is based upon the "if" factor. If he's healthy, if he plays well, etc. but think about this — what if the aforementioned "if's" come to fruition? Man oh man, what a time it will be for us Faithful to again have reason to smile as we're yet again witnessing great 49ers football. Thanks again for riding with me and hope you enjoyed this literary Uber ride. Go Niners!